SX3 HiTorque Mill
Jump to navigation
Jump to search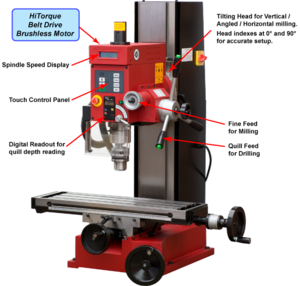 SX3 HiTorque Mill
Funds for the mill donated from WSP UK ltd
It is a space owned item
Specifications Drilling Capacity 25mm End Milling Capacity 25mm Face Milling Capacity 50mm Tapping Capacity 12mm Spindle Stroke 72mm Throat 235mm Spindle Taper R8 Spindle to Table Distance (With Guard) Head in normal position 30-380mm Head Tilted at 90° 110mm Minimum Spindle Speed (Variable) 100-1750 rpm ± 10% Table Cross Travel 145mm Table Longitudinal Travel 360mm Table Size 550x160mm Effective Table Size 475x204mm T-Slot Size 12mm (M10 T-Nuts) Table Drain Hole Thread M16x1.5 Motor Output 1000w DC (Brushless Motor) Input Voltage 220-240VAC 50/60Hz Overall Dimensions Width 765mm Depth 670mm Height 990mm 850mm to top of column) Weight (Net/Gross) 162kg/184kg Standard Equipment:Drill Chuck and Arbor, Drawbar
Hackspace specific information
Activity to take place by milling station
PPE
PPE supplied - cover guard on machine. Bagged new certified safety glasses are supplied in the social space storage if required, otherwise user to provide own.
Induction
Whilst a mill represents a slightly more complicated drill press, there are differences and an induction must be sought prior to its use.
The induction covers:
Ensuring the area is clear and tidy
Method of working
Safe use of tool - Demonstrate safe operation (on/off) of machinery, use of safety buttons. Wearing appropriate PPE
Basic use of mill and DRO,
Use of collets and ensuring tools are fixed firmly.
Ability to align the clamps and replace clamp.
Use of cutting fluids
Cleanup
Prior to commencement of milling
Ensure the mill is free of obstructions (slips trips and falls) and is clean, tidy and does not have loose objects in and around the cutting bed.
Ensure ways are clear of swarf and use gloves when removing swarf.
User needs to be aware how sharp swarf can be and not be tempted to remove it from active machinery or parts.
Completion of milling
Use of cutting fluids and safe disposal of waste. Cleanup of work area and return of all tools prior to completion of session.
Maintenance of this page
If you wish to maintain this page, contact the trustees