Computer Lab
Jump to navigation
Jump to search
General Info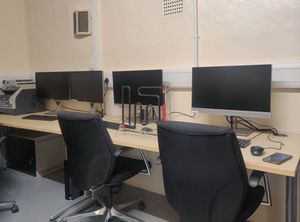 Computers
The computer lab has 10 PC workstations
2x CAD workstations 8x AIO workstations
The PCs are labelled, please do not remove the labels.
Software
The AIO PC closest to the fridge has a copy of Lightburn for preparation of files for the laser. It also contains the Vcarve Pro licence seat for generating g-code for controlling the CNC
Please feel free to use fusion 360 on the computers, but you will need to sign up for your own free personal login.
Do not remove the minecraft education software, this is in regular use.
All unauthorised software may be removed/purged periodically.
Electronics Workbench
Assortment of equipment available including
Battery Welder
Soldering & Hot Air Station
Desoldering Station
Oscilloscope(s)
Cobbled together heatflow oven
Soldering filter
Leave tidy or face the wrath of Lel.
Tuck Shop
The tuck shop has an honesty box. Chocolate bars are 50p and soft drink cans £1.
Any beer stored in the fridge is generally for work parties / social evenings and there is no charge, it's a BYO/Help yourself situation.
Other Equipment
Marble Machine
Does bind, please don't leave unattended and check the chain keeps moving as we don't want to strip a gear
Traffic Light
The traffic light code is on the github It is powered by micro USB and contains 3x 1w LEDs
25mm Badge Machine
Doesn't seat perfectly, pay special attention to getting everything perfectly central
Brother Laser Printer
No one has yet used it, be the first and let us know how it goes
A3 Colour Laser Printer
Canon imageRUNNER ADVANCE C2020i
Online Manual
Drivers
https://www.canon.co.uk/support/business-product-support/returning-to-work/
Vinyl Cutter
The vinyl cutter is stored in the server room on the top shelf and the software is installed on PC6 in the computer lab.