Disabled access
Jump to navigation
Jump to search
Walking route to car park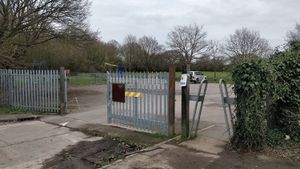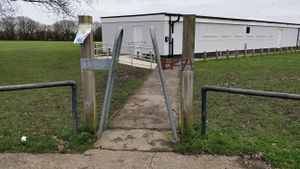 Both the walking entrance to the main car park and the access to the field are restricted with what is apparently a "DDA compliant" width restrictor which allows wheel chairs, but we have found it fairly tight for equipment and even pedestrian shoulders. Feedback for wheelchair users is encouraged.
Following the wheelchair restriction entering the car park there is a dropped curb with a minor step, and entering the field, a similar dropped curb to "climb" towards the 2nd width restrictor. The tarmac path is flat and in good condition in approach to the ramp.
Entrance to the space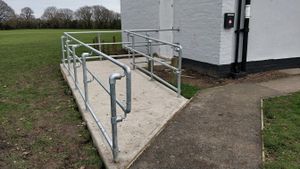 The ramp joins the footpath flush.
The ramp is in full compliance with current regs (as of January 2021) with adequate turning circle prior to the main door. The main door opens outwards with an electronic door lock at a height accessible for those in a wheel chair. Please be careful in icy weather.
It is possible to gain access to the rear of the space via the shutters, assuming that someone else is already in the space. There is a small incline towards the front of the building and a minor step towards the doors, which open inward.
Internal corridor
The internal corridor has two width restriction areas - old frames which are 750mm and the corridor either side is 900mm. The doors to the workshops are also 750mm, but may be further restricted by the hinges. The metal workshop has secondary access which is 1m accessible from the lobby.
Disabled accessible toilet
The space has two toilets which are both unisex and open for all to use. One of these toilets is disabled accessible and is at the social space end of the corridor. There are a range of handles and a secondary sink available which is reachable from the toilet.
If there are any comments/complaints about the accessiblity of the space, please let one of the trustees know.