Lulzbot Minis
Jump to navigation
Jump to search
General Info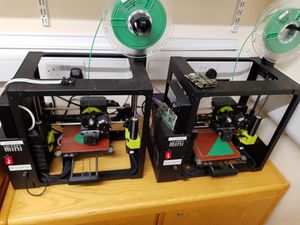 There are two Lulzbot Mini 3D printers (Sandy & Ramon) at the Hackspace. These are good for small to medium sized prints. Be aware some prints may take many hours to complete and you should never leave the printer unattended. Please take this into account when planning a print.
Specs
Print Area: 152 mm x 152 mm x 158 mm
Top Print Speed: 275mm/sec (10.8 in/sec) at 0.18 mm layer height
Layer Thickness: From 0.05 mm to 0.50 mm
Capable Materials: ABS, PLA, HIPS, PVA, wood filled filaments, Polyester (Tritan), PETT, bronze and copper filled filaments, Polycarbonate, Nylon, PETG, conductive PLA and ABS, UV luminescent filaments, PCTPE, PC-ABS, Alloy 910
Filament Size: standard 3 mm
Print Surface: Heated borosilicate glass bed covered with PEI print surface
Using the Lulzbot Minis
The Lulzbot Minis are accessible to all members following a 3D printing induction or demonstration of existing knowledge of the process.
Powering on and accessing the printers
The two printers are controlled by Octoprint. Power on the printer you wish to use at the on/off switch on the front then after about a minute connect using the links below.
Slicing for printing
In common with most 3D printers, you must convert your 3D design file (STL, 3MF etc.) into a set of commands specific to the type of machine you wish to print on. For the Lulzbot Minis, this is "Cura Lulzbot Edition", installed on the computers in the PC Lab (TBC).
Removing your print from the print bed
TBC
Potential problems and solutions
TBC
Shutdown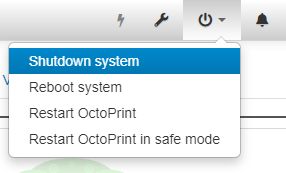 Before switching off at the switch, please shutdown Octopi by clicking on the 'power' icon on the top left and choosing "Shutdown system". Give the Raspberry Pi about 60s to shut down then switch the printer off at the switch on the front.
Loading & unloading filament
TBC