Wazer
Jump to navigation
Jump to search
Wazer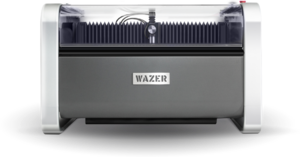 The wazer was the result of a combination of membership subscription fees grant from the Essex Community Foundation and a fundraising from the former chair of Rochford District Council, Cllr Julie Gooding.
The Wazer is used to cut things that cannot be cut in the much larger laser cutter.
Instructions for use / induction
Please read the instructions for use prior to the induction
Maintenance
Troubleshooting & Maintenance Tips
Software
The software is cloud based and requires DXF or SVG to generate code.
specs
Cut area 305x460mm
Bed sized 330x485mm
Kerf 1.2mm
Abrasive Rate: 0.15kg/m
Max Speed: 1,500 mm/min
Positional Accuracy: 0.08 mm
Continuous cutting time 60mins between refills of abrasive hopper.
Hopper Capacity 13.5 kg
Abrasive used: 80 Mesh Alluvial Garnet

Cuts metal, glass, plastic, composites, tile, rubber, foam

Material Cut List Thickness and cutting speed
https://wazer.com/materials/materials-specs/#materials-table